Psychedelic Practitioner Training
Community and Program Updates
Learn more about our community and training program's latest updates, news, and celebrations.
Our Most Recent Event:
'Stewards of a New Paradigm: A Conversation on the Role and Core Competencies of Modern-Day Psychedelic Practitioners'
Watch the recording of this candid, thought-provoking conversation between Synthesis faculty Dr. Rosalind Watts, Dr. Anja-Loizaga Velder, Camille Barton, and Claude Guislain, exploring the role, competencies, and challenges of contemporary psychedelic practitioner in today's landscape. Watch the recording here
Learn more about the Psychedelic Practitioner Training ownership transition.
Frederica Helmiere, Program Director of the Psychedelic Practitioner Training, recently authored a Medium article reflecting on her experience of the events surrounding the closure of the Dutch Synthesis retreat branch in early 2023. The article aims to address any lingering confusion surrounding the continuation of the Psychedelic Practitioner Training program. Read the article here.
Enrollment for November 2023 Cohort Is Now Open
Enrollment for the Psychedelic Practitioner Core Training November 2023 cohort is now officially open. This provides a timely opportunity for aspiring practitioners to prepare for launching their professional careers in this field. Upon graduating in 2024, students will be entering what is anticipated to be a landmark year for mainstream access and legalization. Discover more and apply here.

Launching Our One-Of-Its-Kind Practicum Program
for Graduates of the Core Training
We're excited to announce the upcoming launch of the Professional Continuity Workshops, set to begin in Fall 2023. These workshops are part of our enhanced Practicum program and are designed for graduates of the Psychedelic Practitioner Core Training program. Led by experienced practitioners, researchers, and other experts in the psychedelic field, each workshop will focus on specific topics and case studies, aligning with Synthesis's "Many Ways of Knowing" pedagogy. The workshops will incorporate insights from all nine modules of the foundational Psychedelic Practitioner Core Training, offering opportunities for hands-on skill development. This allows students to hone specific skills and deepen their understanding, effectively rounding out their training.

First 2023 Cohort Launched in August
The most recent cohort of the General Edition of the Psychedelic Practitioner Core Training program recently joined our community. Given the recent events that have impacted our program earlier this year, this was not a guarantee. We are deeply grateful for the trust placed in us, and we appreciate the sense of renewal and regeneration that this new cohort of aspiring practitioners brings to our growing community.
Three-Part Workshop Series:
'Path of Practitioner: Cultivating Embodied Wisdom for Skilful Facilitation.'
We recently hosted a special three-part workshop series featuring Synthesis Advisory Board Member Rev. Konrad Ryushin Marchaj and Ph.D. Elizabeth Monson. The workshops focused on the power of 'Not Knowing,' exploring the profound role of embodied wisdom and mindfulness practices in a practitioner's personal and professional life. Stay tuned for your opportunity to access the recording of the bonus workshop series.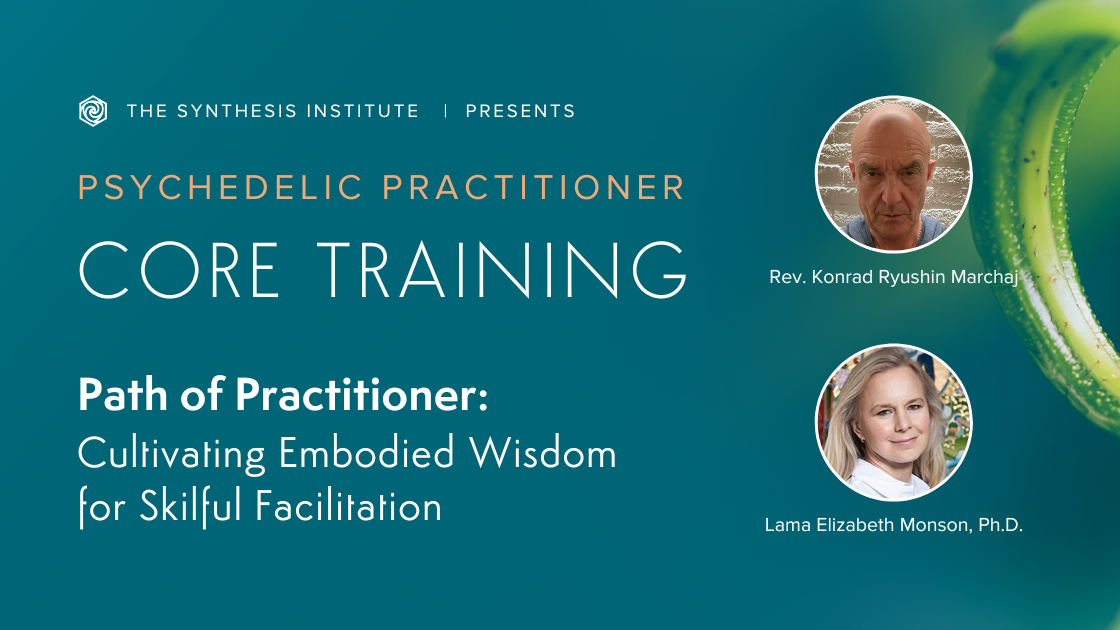 Psychedelic Practitioner Training 2022 Cohorts Graduate
and Join the Alumni Community
Please join us in celebrating the graduation of the April and July 2022 cohorts, whose 11 pods have now completed all nine modules of the training and their Warrior Exam, and their students now join our alumni community. Our heartfelt congratulations go out to every student for completing this journey.
Second-Ever Immersion Experience in The Netherlands
Our April and July 2022 cohorts have recently concluded our second-ever Immersion Experience. This immersive training retreat combines tried and trusted elements of former Synthesis retreats, refined over years of psychedelic facilitation, along with new elements that complement the interdisciplinary approach of the foundational digital training program. The Immersion Experience is the essential piece that brings the Psychedelic Practitioner Core Training to life and reinforces and puts into practice the various lenses explored and personal qualities developed during the foundational digital training.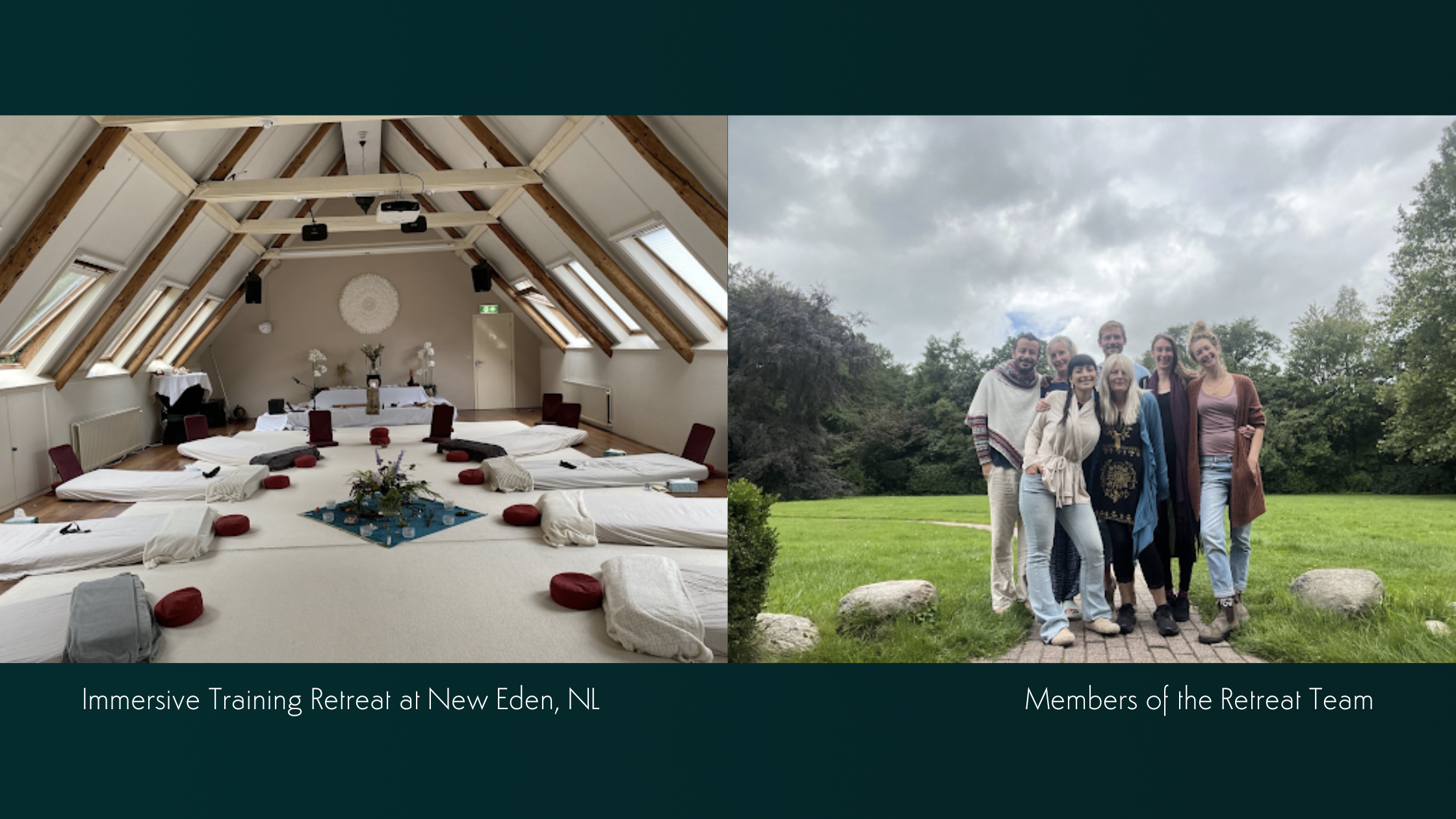 Largest Open House Event in the Program's History
We're delighted to announce a historic moment for the Psychedelic Practitioner Training program: the largest attendance of any Open House event we've ever hosted. This is a testament to the authentic hunger among current and aspiring psychedelic professionals to contribute to a radical shift in health, care, and wellness. Joined by Learning Facilitators and recent graduates, this event offers rich insights into the program. Watch the full recording of the Open House event here.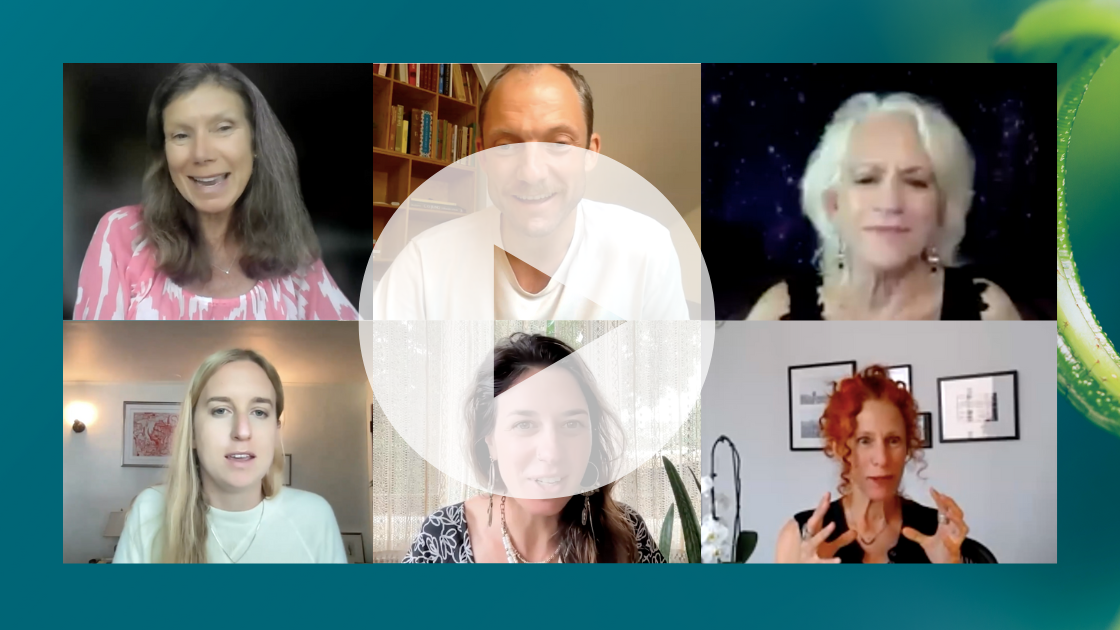 Financial Inclusivity: Bringing Scholarships Back to Our Community
As part of our recommitment to Synthesis's values of access and inclusion, we are proud to announce that for the first time since 2020, partial financial scholarships are made available to qualified applicants. Priority will be given to candidates who demonstrate financial need and who have been disadvantaged by sources of oppression such as their race, class, gender identity, sexual orientation, religion, immigration status, ableism, and other identity markers. These scholarships aim to lower financial barriers and provide opportunities for those who may face challenges in accessing psychedelic education. If you're interested, you can sign up for our scholarship interest list here to receive notifications when these opportunities become available.
Closing Remarks: Our Continued Commitment
In closing, we reaffirm our commitment to the values that define our work: ethical conduct, professionalism, authenticity, fairness, and an ongoing pursuit of learning in the psychedelic field.